I'm sure you'll agree with me:
When it comes to ranking on Google, quality content is king.
But is it, really?
According to a study of over 1 billion web pages, 90.63% of SEO content gets zero traffic from Google.
In other words, 9 out of every 10 content pieces written for search engine users are complete and utter failures.
That's because writing quality content is just one part of the equation.
To rank consistently at the top of SERPs – and win more organic traffic – you need to write your content around a proven search engine optimization framework that satisfies both users and search engines alike.
In today's post I'm going to share with you my proven SEO templates, plus show you step-by-step how to optimize 11 types of SEO content for higher search engine rankings.
Whether you're looking to rank your homepage, product page, blog post (or any other of the 11 SEO content samples I share), after reading and applying what you learn in this post, your content will consistently rank in the top 9.37% of all pages on Google.
Let's begin with the foundations:
DOWNLOAD: A free checklist that will show you how to implement these content optimization tips. Includes step-by-step frameworks for 3 bonus content types not included in this post.
Now that you know how to optimize the essential elements of high performing SEO content, let's explore how each can be used for different content types:
Types of SEO Content
There are 11 (main) types of Search Engine Optimization content that regularly attract readers' attention and compete in the search results. I've included a list of my top-eleven SEO templates below:
👆 Click to jump to a section
Let's begin with the most prominent content page on any website.
1. Homepage SEO: Optimization Tips For Increased Engagement and ROI
Your website's homepage is very similar to the front page of a newspaper or a book.
From a utility perspective, it is the most crawled page on your site.
And its aesthetic appeal creates the overall impression of your brand.
As your virtual front door, its focus should be to draw in the attention of your visitors and encourage conversions.
And just like any storefront, you have mere seconds to entice a user to stick around and lead them toward a positive action – like a purchase.
How many seconds do you think users actively spend on a website?
For most users, it's less than 15 seconds.
What's more, people form an opinion of your website in just 50 milliseconds.
That's right:
In just 0.05 seconds, users will make a snap judgment and decide if they'll stay on or leave your site.
You're probably realizing the effect a poorly designed homepage can have on your company's bottom line.
So what can you do to make the most of the milliseconds you have to entice your users?
The best way to encourage users to stick around and perform a positive action is to optimize the design AND content of your homepage.
Overhauling your homepage might sound like a massive undertaking, but by utilizing a few homepage UX and SEO content best practices you will very quickly see improvements to your website's rankings AND conversions:
Let's look at these best practices in action with the following examples:
Finchitua
Finchitua is an African-inspired streetwear brand.
Their homepage brilliantly focuses on the brand's USP across both its headline and descriptive sub-headline. There's no jargon to decipher with the content.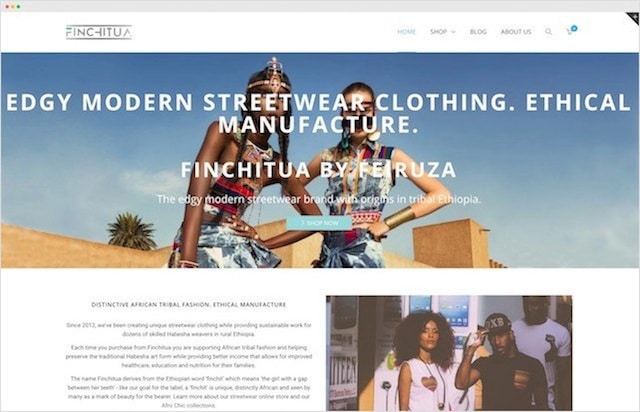 The primary call-to-action "Shop Now" is direct and stands out against its emotive background.
What's more, the imagery Finchitua has chosen quickly provides a glimpse of the design elements of their clothing.
Below their brief "About Us" section, Finchitua provides different pathways for users to shop their collection and get inspired by different looks that interest them.
Doors Freestyle Grill
You don't even need 50 milliseconds to know precisely what Doors Freestyle Grill is about.
Combining evocative videography with "Fusion Fine Dining in Dubai Amidst a Spellbinding Setting" makes this fusion restaurant experience worth trying.
In fact, the screenshot above doesn't do this restaurant justice as the video carousel on the homepage sells the experience awaiting its patrons.
The three CTAs are well-positioned on the homepage and allow users to perform several actions depending on where they are in their user journey.
If the user is still in the discovery or comparison stage, they can navigate to the menu to explore the restaurant's offerings.
The "Book A Table" call-to-action makes it easy for users who have reached the buying stage to reserve their experience.
Now that we've talked about homepages, let's turn our attention to category pages.
2. Category Pages: How To Optimize E-commerce Listings for More Organic Traffic (And Sales)
While your website's homepage acts as a virtual storefront, few (if any) commercial searches land up on your homepage.
That's because commercial searches are high-intent and specific and your homepage acts as a catch-all for broad (and branded) keywords.
If you want to rank top for highly commercial "buyer" keywords (and let's face it, who doesn't?), then you need to master product and category page optimization.
You'll learn about product page optimization later in this post.
Next, I'm going to show you exactly how to optimize a category listing page on your website, but first:
What is a Category Page?
A category page, also known as category listing page is used to group web pages of a similar subject or theme together in one list.
They are commonly used to group blog posts, services, and products on a website.
In other words, category pages act as a bridge, connecting your homepage (broad) to its individual product, service, or blog pages (specific).
The proper organization of category pages enables Google to better index and understand the content within your website.
On the user end, a well-thought-out category structure makes it easy for users to navigate your site and find the particular product or post they're looking for.
Let's look at an example of how this works:
Say, you run a swimwear e-commerce site and you want to compete for the term "swimming trunks."
If you didn't have a category page, you would have multiple product pages trying to compete for "swimming trunks" in the SERPs.
Google won't know which product page to rank first for your search term and you'll run into duplicate content issues.
A category page takes care of this taxonomy issue.
Your category page could rank for "swimming trunks," and all of the subcategories or individual product pages underneath it could target more specific terms like brand, style, and color.
While that example was geared towards an e-commerce site, category pages should be utilized in a similar fashion across any website with a large number of products or services.
Now we've covered "why" optimize category listing pages, here is "how" to do it:
Make Header Tags Relevant (And Keep Users Glued To Your Category Page)
The natural starting point of any category page is the heading.
The heading is what keeps users stuck to the page.
When done right:
The header tag will inform users (and Google's bots) your page contains what they're looking for.
The page's header should be relevant, wrapped in a <H1> tag, and make full use of your target keyword(s).
Fashion retailer Farfetch, uses their H1 tag effectively.
Not only is it relevant to the category page, it targets their focus keyword, which in this case, is "tote bags."
Sadly:
Most online merchants and bloggers stop here.
Ecommerce retailers, in particular, fail to realize that category pages can do more than just show products.
This leads us to our next optimization element.
Include Introductory Text and Expand Your Keyword Opportunities
A small block of textual content below the H1 tag elevates the category page's optimization opportunity.
Making full use of an introductory section allows your category page to include additional short-head, long-tail and LSI keywords into the page's copy.
Which, in turn, increases the category page's "rank-ability."
What's more:
Having an introductory paragraph at the top helps inform users what they can expect from the page…
Which in turn, makes the category listing page more "sticky" and increases dwell time, which is an essential part of ranking these days.
In the case of Pretty Little Thing, their introductory text includes the long-tail target keywords "black cocktail dress" and "midi cocktail dress" to further surround their primary keyword found in the H1 tag "Cocktail dresses."
They're also smart to incorporate LSI keywords like:
cocktail party
strappy heels
red carpet
fishtail dresses
LSI (Latent Semantic Indexing) keywords are conceptually related terms that search engines use to better understand the content on a webpage.
By peppering LSI keywords into their content, Pretty Little Thing builds more relevance for their main (and related) keyword terms.
You should do the same.
For retailers who have no experience in keyword research or copywriting, it may be wise to partner with an SEO agency that can maximize this opportunity.
And, as always, keywords should be used ONLY where they fit naturally.
Google will penalize you if you stuff excessive keywords into your content.
Put Visuals To Work
A fully optimized category page does more than just display SEO-friendly content.
It also makes use of engaging visual elements like images and videos.
High-quality visual elements are necessary on any type of webpage as humans process visual data better.
The human brain can process visual data 60,000 times faster than text.
If you really want to grab the attention of your visitors (and keep them on your page longer), visual is the way to go.
For an e-commerce website, this means high-quality product images showing your items from various angles.
But quality product photography is not all you need.
To take advantage of the large number of image searches that result in e-commerce sales, you must also leverage image SEO.
Fortunately, we've created this in-depth image SEO guide to help you optimize your images for Google Images and other search engines.
Make Use of Related Text Content
This is where many e-commerce stores go wrong:
They use their category listing pages to list their products – and nothing more.
While listing associated products is a category's primary purpose, it commonly means category listings end up like this:
Like the example above, they can contain no actual SEO content.
And, without substantial content on your page, ranking in search engines is seriously hard.
This is where body content comes in.
Typically placed at the bottom of the category listing, body content blocks expand on your introductory text at the top of the page.
In order to serve search engines with enough information, I recommend you aim for 200-300 words.
This will protect you from thin content penalties, and give you the opportunity to scatter in more longtail and LSI keywords.
Of course, the text should be purposeful and answer key customer questions.
Lastly, the bottom of the page content block allows you to cross-promote your other categories and products via internal links.
Internal links help channel page authority to the linked-to page, and when appropriate anchor text is used, signal what keywords to rank that page for too.
Elements of homepage SEO should carry through to your category page too.
These include:
Brand logo
Accessible contact information
Key products or promotional offers
Descriptive calls to action, like "view product name"
Visible, easy-to-use menu options
Social proof, like testimonials
That's because a category page, like your homepage, is a common entry point to your site.
Including these elements will help establish trust – and ensure that new users stick around.
How To Optimize an Ecommerce Category Page (Putting It All Together)
Use this framework that shows you how to put all these category optimization tips in to practice:
With your category page optimized for higher search engine rankings – and to direct users down the conversion funnel – it's time to capture that opportunity and get users to convert.
For that, we need to optimize your product page(s).
3. Product Page SEO: Optimization Tips For Better Rankings and Revenue
For most websites, the product page is where conversions occur.
All your other pages are meant to drive users towards a purchasing decision.
The core focus of the product page is to provide enough contextual information to trigger the potential buyer's decision-making process.
And, importantly for us:
Rank high in SERPs for buying keywords.
So what does an SEO-optimized product page look like?
Here's an anatomical breakdown:
The website Allbirds does a fantastic job of optimizing the required on-page SEO elements to draw in more organic visitors – and convert those visitors into prospective buyers.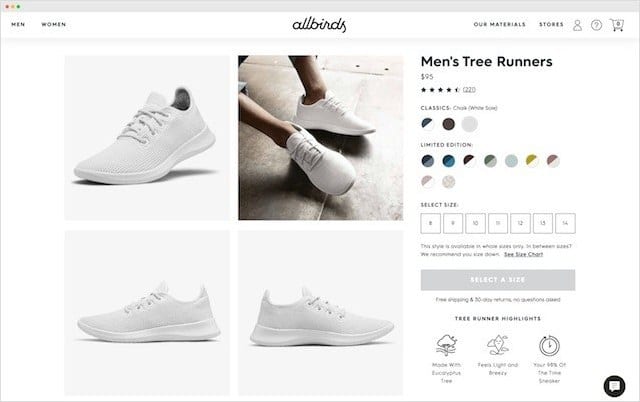 The Allbirds product page is impactful, using strong visuals that are engaging and informative.
The page showcases the product's benefits and strategically answers typical customer queries through user-generated content (reviews and testimonials) and product copy.
The content is also segmented into different sections, making it easy to view all of the product information on any type of device, from desktop to smartphones.
On the HTML side:
Don't forget to use an easy-to-remember, SEO-optimized URL and an inviting page title and meta description.
Integrating these on-page SEO elements to your product pages will provide enough semantically relevant content to delight customers and help Google easily index your content for that all-important Page 1 ranking.
Pro-Level Product Page Optimization Tips:
So you've learned the fundamentals of product page optimization, here are my top-3 tips for taking your product page SEO content to the next level:
(a). Leverage Schema for Richer Search Engine Listings
Schema.org provides a wide array of options to get feature-rich listings into SERPs.
Reviews, price, and product availability are just three ways you can stand out.
But, implementing Schema is tricky when you do it manually.
That's why I encourage you to use a Schema markup app, especially if you are on one of the popular eCommerce platforms.
Yoast's Woocommerce SEO plugin and Total Schema Markup App for Shopify are two I recommend.
(b). Put Your Effort Into (Unique) Product Descriptions
A lot of e-commerce sites will just take the same description and roll it out across multiple products (with slight modification).
Or worse still, copy/paste manufacturer's descriptions onto their own product pages.
This is lazy, and won't help your rankings at all.
In order for you to rank high for product keywords, you need to write completely unique content for each and every product.
Your product description should cover all the information a user would want to know prior to purchase.
Things like:
Important features and components
The material of the product
Care and maintenance instructions
Information about the brand
Size/dimensions/capacity
Price
If all that sounds daunting, start with your highest value and/or most popular products.
Keyword research will help you identify products with the highest demand.
What about word count?
There is no ideal length, but as a general rule of thumb, you should be writing at least 300 words.
This should be long enough to cover the features and benefits of your product and to include plenty of longtail and LSI keywords.
But of course;
If your competitors' product descriptions are longer in length, you should make yours even more comprehensive and detailed than theirs.
Product pages on Amazon can contain many thousands of words:
(c). Optimize Your URLs
E-commerce URL slugs can get messy.
Here's one from Top Man:
https://www.topman.com/en/tmuk/product/clothing-140502/mens-chinos-1908814/
Unlike the example above, you want your URL slugs (permalinks) to be concise and readable to the human eye, which means:
Special characters and redundant sub-folders are to be avoided.
Here's what I suggest as a starting point:
yourdomain.com/category-name/product
Or:
yourdomain.com/category-name/subcategory-name/product
The main things here:
Keep categories to a minimum so not to overextend the URL
Make your slugs short, descriptive and human friendly
Pretty simple, right?
Now that we've covered the main content pages of an online retailer, let's look at one of the most popular SEO content types.
4. Blog Optimization: How To Optimize A Blog Post For SEO Success
If you've ever done any sort of informational search on Google, chances are, you've found a tonne of blog posts ranking top in SERPs.
Since 80% of queries on Google are informational, I'm sure you'll agree:
A blog is fundamental to having a strong SEO and content marketing strategy.
Although it's clear that blogging contributes positively to your SEO and content marketing efforts, you simply can't put virtual pen to paper.
Blog posts require specific on-page SEO elements to rank on Google and attract visitors to your site organically.
With this in mind:
What on-page SEO elements can you take advantage of to give your blog more opportunities to increase its searchability?
Keep reading – I'll share my five main on-page factors to get you started.
(a). Medium-Tail Keywords: What Are They? And, How To Use Them
Before you even strike your first key on the keyboard, you should have a clear understanding of what search terms your audience is searching.
This requires keyword research.
No search engine optimization strategy can be successful without proper keyword research.
Keyword research is your crystal ball for determining what your audience is searching for, in what format, to enhance your content's effectiveness.
Not optimizing for the right search terms will make it difficult for your website to attract a steady stream of qualified visitors.
For you to counter that, the answer is medium-tail keywords:
Why medium-tail keywords?
Let's say you wanted to write a blog post about chocolate cake.
The short-head term "chocolate cake" (71,000 monthly searches in the US) is so broad and ambiguous that even if you were to rank for it – which is very unlikely – you might draw in visitors who don't qualify for your specific goals.
On the other hand, long-tail keywords like "easy eggless chocolate cake recipe for kids" (10 monthly searches in the US) provide a niche that's easy to rank for but deliver very little traffic due to low search volumes.
The chunky middle AKA "medium-tail" is the happy medium (excuse the pun):
Moderately difficult to rank for
Good traffic potential
So let's go back to our "chocolate cake" example.
Rather than trying to write a blog post for the popular short head term "chocolate cake," or the long tail term "easy eggless chocolate cake recipe for kids" you could write a blog post around the medium-tail keyword "chocolate pound cake recipe."
As you can see from the data above, it has a good search volume and a low keyword difficulty (KD) score which should indicate that you could rank for it with good content and some links.
(b). Include Your Keywords In These Specific Sections
You probably already know where this is going, so I'll make it brief.
Your keywords are most effective in the following areas:
You may be wondering:
What about the body?
While using your medium-tail keywords in your blog's text will help Google know your content is about that specific term, be careful not to overdo it.
Over-optimizing your text is a type of keyword stuffing, which can negatively affect your overall rankings.
Also, it's important to note that over-optimized text provides a terrible reading experience and can force your readers to leave your site, causing a high bounce rate.
I recommend you drop your main keyword into your body copy, once in the first 100 words.
Then write naturally, sprinkling in the occasional LSI and long-tail keyword elsewhere.
This usually translates to having semantically related terms in every 50 words (or so) of your blog post.
(c). Add Links In Your Blog and Slash Bounce Rate
You may have noticed as you have read this article that I've referenced another blog post or two on our website.
All the links I've included in this blog post allow readers to read up on that related topic.
Which in turn, passes link equity to the linked-to page and shows Google the relevance and authority of our other articles.
And, keep users on-site for longer.
Aim for 2-3 internal links for each blog post you write and use descriptive anchor text containing the target keyword of the linked-to page.
Adding a related post section to the bottom of your page is another effective way of keeping visitors on your website for longer, which reduces bounce rate and helps your rankings overall.
(d). Optimize Your Images For SEO
As image SEO has already been mentioned, we'll keep this brief:
Using quality images or video help to make your blog posts better in several ways:
Creates a more visually appealing article
Improves scannability of the page
Distills complex information into digestible content
Makes content more shareable
When including images in your blog post, make full use of image SEO best practices:
Customize the filename
Include alt text
Choose the right file type
Compress your images for site speed
Create unique images (avoid stock photos)
Use CDN for responsive images
Include captions (where necessary)
(e). Length is Strength: Blog Post Best Practices
Depending on who you ask, the ideal length of a blog post varies from 1,760 words exactly to approximately 2,100-2,400 words.
Regardless of the specific length of a blog post, the consensus is:
The longer the blog post, the better.
But like anything else, quality will always trump quantity.
What does this mean?
Don't just write for the sake of writing.
The idea behind any blog post is to answer a search query with enough in-depth coverage to satisfy the searcher's intent.
And, to do it better than your competitors.
And Google backs this research up.
Their Panda algorithm update explicitly targets websites with thin (and low-quality) content.
Which normally means pages with fewer than 200 words.
So, aim longer. Your rankings will thank you.
How to Optimize a Blog Post for SEO: Putting It All Together
Use this blog optimization framework when you next publish a blog post to your site:
With that, onto our next search engine optimization content type.
5. The Glossary Page: An SEO's Secret Weapon
Have you ever found yourself reading an article about a niche topic and come across an industry-specific term?
If you've done any sort of DIY task, you probably have.
And more often than not, when you do stumble upon a term you don't understand like "PEX pipe" or "banner blindness," you'll probably reach for your handy pocket dictionary, right?
Although it's more likely that you'll go on Google and type in the term to find its definition.
(By the way: a PEX pipe is a type of flexible polyethylene-based tubing, while banner blindness refers to that instance when people who are skimming a page filter out page elements they believe to be advertisements.)
This is where creating (and optimizing) a glossary page comes in:
With Google becoming the de facto dictionary, organizing your industry knowledge and terminology on a dedicated glossary page allows your business to:
Educate and inform site visitors
Keep visitors on your website for longer
Easily generate quality content
Display your thought leadership
Optimize your site for keywords
Generate internal links
Improve visibility in SERPs
As a resource page, your glossary enables you to get relevant visitors onto your website, and if optimized with on-page SEO elements, can drive visitors further down the conversion funnel.
So, just how do you create a glossary page with the right type of on-page SEO elements?
The first thing you need to do is to identify the primary industry terms that are being searched for in the SERPs.
One way to do this is to speak with members of your organization, like sales, PR, and marketing, to pinpoint the most relevant industry jargon for your business.
But better, still:
Do some simple question-based keyword research.
My go-tool for this is Ahrefs Keyword Explorer.
In Keyword Explorer, simply enter "what" plus your seed keyword.
Then, navigate to Questions under Keyword Ideas and you'll get a tonne of glossary term ideas like this:
Once you've written out your definition, all you need to do is insert your keyword, wrap the glossary term in a heading tag and you're done.
Moz does a great job of this:
And because their definition is well optimized they snag a featured snippet:
We did the same with our own SEO glossary, covering the most searched for SEO vocabulary and jargon there is out there.
You can also link out from your glossary to other pages on your site.
Search Engine Journal does this well.
On their glossary page, they've selected specific SEO vocabulary to expand into more in-depth content pieces.
Some of their terminologies also externally link out to authoritative sites to further improve their ranking power.
More Glossary Page Optimization Tips
You can also improve the usability and readability of your glossary page by including images or videos to the page.
Visual data is a great way to distill complex information and explain them with easy-to-understand visuals.
The best part is that any industry can use visual data to make their glossary pages more informative and engaging for their users.
Not only will visuals make your page more engaging, but they will also enhance your display in rich answers – if you're eligible to be shown.
Finally, if your page turns out to be very long…
This glossary from Morning Score is an 18,382-word monster:
Then I recommend you use jump links that will take users to the appropriate place on the page.
Using jump links will enhance user experience which is an essential "satisfaction" signal for search engines.
Once you've written out your list of terms, you can leverage these definitions to create other content assets like infographics, blog posts, webinars, and so on.
If you operate an e-commerce store, you can internally link to your glossary page from your product pages to provide more informative definitions of specific vocabulary that the average user may not understand.
In Quick Summary: Optimizing Your Glossary Page
Here's an easy visual reference of the key elements of an SEO-optimized glossary page.
A glossary is not the only type of vocabulary-style content you can create on your website to answer user questions.
Frequently asked questions (FAQ) pages are also handy for both users and search engines alike. We'll cover them now:
6. FAQ Page SEO: Frequently Asked Question Optimization + Best Practices
A frequently asked questions page does exactly what it says.
It provides in-depth answers to important questions your customers or site visitors might have about your products or services.
But answering customer queries is just one benefit to having an FAQ page.
When properly structured, your FAQ content can display for commonly searched queries on Google, making it a useful SEO tool.
How can an FAQ page be used for SEO?
Like any other SEO content, FAQ content can be leveraged to draw in organic traffic from SERPs.
What's more, FAQs (along with their answers) build trust with your users, helping them make an educated decision regarding your products or services.
The better the overall user experience is, the lower your bounce rate becomes and the higher your rankings will be – not to mention conversion rates too.
When optimized correctly, your FAQ page can compete for several head terms, long-tail keywords, and question-based queries.
The latter is especially important for the rising voice search trend and the featured snippet space, Google's highly coveted position "zero."
But what makes featured snippets so important for voice search?
This is what:
A HUGE number of voice searches will retrieve the featured snippet as the ONLY result that's returned.
In other words; nail the featured snippet result and you dominate voice search.
So you're probably asking; how do I create an SEO-friendly FAQ page?
I'll show you now:
(a). Build a List of Actual Questions From Your Customers
Like your glossary page, a good starting point will be to collect the most common questions and concerns that your customers have.
These can be found by working with your sales, marketing, and customer service teams. They will often field questions from prospective customers looking to gain information about your products or services.
But, don't stop there.
Gather the top-questions from Google as well.
My favorite tool for this is Also Asked.
Also Asked combs through the 'People Also Asked' SERP feature on Google and returns all related queries to a seed term you enter.
If your website has a custom search bar and you've configured Site Search in Analytics, you can also comb through your Google Analytics data to find the most popular search terms used on your website.
This will help inform how you should structure your questions with keyword phrases.
(b). Wrap Your Questions In Heading Tags
Once you've identified which questions you will target, it's time to structure your FAQs (and their answers).
This step is easy;
Simply write out each question.
Wrap each one in a heading tag.
Then immediately below the FAQs using body text, provide a short succinct answer.
PRO TIP:
If your question requires an in-depth answer, I recommend you provide a short response in 40-50 words, then expand on the answer below.
This will give you the best chance of ranking in the answer box where the length rarely exceeds 50 words.
(c). Bolster Your FAQ Page With Internal Links
Shopify's FAQ page does this well.
Not only is Shopify able to answer this "dropshipping" question effectively, but they've also used this FAQ opportunity to showcase their dropshipping landing page that allows their users to set up a shop quickly and begin dropshipping.
In other words, they drive users towards a conversion.
With that in mind:
When answering common questions on the SEO Sherpa website, we took a leaf out of Shopify's book and used the opportunity to promote our own SEO services.
Not only does this internal link help the page we link to rank better, but it also increases our opportunity for conversions.
(d). Get Creative With Your FAQ Page
Like glossary pages, visual elements can make a world of difference in answering several FAQ questions.
Even just featuring an overlaying full-width CTA on branded imagery can create far more engaging content.
Quip, an oral care startup, makes full use of visuals, transforming specific how-to FAQs into guided multimedia demonstrations.
Take a look at how they present their answer regarding changing the electric toothbrush battery:
How can you incorporate visuals into your SEO content writing?
(e). Structure Your Data
Having a properly structured FAQ page makes your questions eligible for rich display in SERPs.
To compete for this feature, you will need to code your FAQ page with schema markup.
If you don't know how to add structured markup data to your page, check out this SEMRush FAQ Schema guide or the guide Google provides.
Use FAQs Everywhere
We've been talking here about FAQ pages.
But, that doesn't mean frequently asked questions can display only on an FAQ page.
In fact, I'd go as far as saying;
Limiting your FAQs to just FAQ pages is a HUGE mistake.
Google displays FAQs in search engine results for all manner of queries.
From informational queries like "what is SEO"
To highly commercial keywords like "credit cards"
With that in mind, you should use every opportunity you get to display frequently asked questions on your site.
They can be especially effective on product and service pages to handle pre-purchase objections or in blog posts or articles to handle newbie queries about your industry – they work practically anywhere.
And, given Google rewards topical relevance these days, answering related questions around a given query can help you rank better too.
So I'll leave you with this final tip relating to FAQs…
Before publishing any content to your site check the search results for your target keyword.
If Google displays 'People Also Asked' for your given term, take those questions and add them to your page as FAQs.
That's exactly what My Money Souq did;
Which, as I showed in the example above, won them a rich listing and a lot more real estate on the first page.
Putting it all together…
Now you know how to gather, format and optimize your frequently asked questions keep this reference guide close by as a reminder of how to effectively optimize FAQs.
With that, on to our next type of SEO-friendly content.
7. How To Write SEO Articles: Samples, Best Practices (And More)
Articles and blogs.
Two sides of the same content coin?
While articles and blog posts are often used interchangeably, each serves a different purpose.
An article's primary purpose is to provide in-depth analysis on a particular subject, using an educational tone and conveying well-researched information from a second or third-person perspective.
Articles are typically published for mediums like newspapers, magazines, medical journals, and online databases.
Blog posts, on the other hand, are more informal in their writing style.
The focus of a blog is to be helpful, delivering high-level information, usually from a first-person perspective.
Blog posts are also highly scannable and optimized for search engines, targeting specific keywords and featuring visual elements to encourage the reader to stay on the page longer.
Despite the clear distinction between the two types of content, more and more publications are turning to blog-style writing to improve their presence in SERPs and drive traffic to their site.
The shift to online marketing and the requirement to compete for search rankings to gain visibility online has also resulted in article-style writing to become more casual.
A prime example of this transformation is Forbes, an American business and lifestyle magazine.
Despite much of their content being traditionally article-focused, Forbes also publishes casual, blog post-like content:
Many magazines and newspapers have also adopted this trend to appeal to a broader audience and capture a more significant share of organic search traffic.
And like blog posts, articles can follow the same on-page SEO strategy to enhance their content's presence in the SERPs:
Plan your content around 1-2 medium-tail keywords
Include keywords in specific sections
Chunk your content for readability
Add contextual links where possible
Length is strength
But there are some additional steps to optimizing SEO articles that are not (so) important for blog posts, their more informal cousin.
SEO Articles and E-A-T!
In 2013, for the first time publicly, Google shared its Search Quality Rater Guidelines – a 168-page document used by human quality raters to assess the quality of Google's search results.
Through the release of these guidelines, online content creators became aware of Google's "E‑A-T" ratings, which aim to assess the expertise, authoritativeness, and trustworthiness of any given content.
E-A-T factors are especially important for content that could potentially impact a person's future happiness, health, financial stability, or safety. Referred to by Google as Your Money or Your Life content (YMYL).
For example, if your website offers medical advice, Google will want to understand the information is expert, authoritative and trustworthy before ranking it top.
Given articles typically offer factual, in-depth analysis on a given subject, EAT factors for SEO articles are especially important.
How To Give Your SEO Articles an E-A-T Boost
If you're writing valuable content that's thorough, informative, and well researched you'll have ticked off a number of the E-A-T boxes already.
But there's still more you can do, so it's clear your information can be relied upon:
(a). Cite Your Sources
Citing your online sources is easy.
Include a descriptive hyperlink to the relevant page where the information is displayed and with that, you're done.
(b). Showcase Your Credibility
In order for your articles to rank high in SERPs, they must be seen as trustworthy – especially if you cover YMYL topics.
To display trustworthiness you will need a satisfying amount of information about who is responsible for the content.
The best way to display this is through an author biography listing the formal expertise, qualifications, and education of the content creator.
Nothing fancy here, just a simple bio beneath the article:
If you wish to enhance your E-A-T even more, you can link out from your author bio to a standalone author page and/or social profiles.
Putting all these SEO article optimization tips together:
OK, so you've nailed SEO article writing. On to our next type of content creation for SEO.
8. Product Review SEO: How To Optimize Reviews For Higher Rankings
The internet has truly changed shopper behavior.
Easy access to the web means more and more people are reading through several online reviews before making a purchase.
According to G2:
As statistics show, product reviews are a critical tool in helping prospective buyers reach the purchasing decision stage.
What's more, there are two ways you can use reviews to strengthen your website's SEO.
Review Other People's Products or Services
If you run a blog, you can dedicate a percentage of blog posts to be review-focused.
A travel blog could write reviews about hotels and restaurants in a chosen destination.
Hostelworld, an online hostel and hotel booking platform, makes full use of review posts to generate content.
The review post above not only generates indexable content for Hostelworld's website, but each hostel highlighted in the review also includes their key unique selling points and a clear CTA, encouraging prospective users further down the conversion funnel.
Hostelworld strategically includes internal anchor texts and targeted keywords throughout their review posts to help users discover more of their content, which results in users staying on the website longer.
Gather Reviews For Your Own Products or Services
If you manage an online marketplace, another way to maximize the effectiveness of your product reviews is by allowing visitors to submit user-generated content on your product or service pages.
Generate enough user-generated reviews, wrap them in Schema, and Google may show a rich snippet that summarises your info and display stars and ratings.
Leveraging UGC also allows your brand to create a public discussion about your products or services.
This discussion provides a platform for team members and brand advocates to shine a light on your brand, nudging visitors further in the buyer funnel.
As statistics show, 84% of visitors trust online reviews the way they would a personal recommendation.
And because customer reviews tend to be product-centric, much of the content they generate powers SEO naturally.
Consulting.com has leveraged the natural demand for reviews about their courses:
They've done that by creating a beautifully designed reviews page that features prominently on their website.
It features a whopping 3,745 video reviews.
And, because it's so rich in content, and has been optimized for the term "consulting.com reviews" it ranks number one in SERPs ahead of the dedicated review website Trust Pilot.
According to various studies, positive reviews lift sales by an average of 18%.
But, in terms of SEO, a standalone review page is where the big wins are won.
When it comes to creating your SEO-optimized reviews page, there are just a few things you need to do:
Setup and optimized your reviews page?
Great, it's time for our next SEO content framework.
9. Link Roundups
If you're unfamiliar with what a link roundup is, it looks something like this:
As you can see from the BirdEye example, a link roundup is a list of curated content for a specific industry or niche.
Usually, this curated list is published on a weekly or monthly basis.
In BirdEye's case, the primary focus is business tips, and the content is published weekly.
But virtually every niche — from photography to finance — can make full use of this content for SEO.
The idea behind a link roundup is to highlight content from other authoritative sources within your niche and industry.
By sharing curated content on your blog, you're able to provide your readers with high-quality content.
You can realise other benefits as well when you leverage the power of roundup posts:
To start publishing your own roundup posts, do the following:
(a). Find Quality Prospects
As the goal of a roundup post is to feature the "best of the best" in your niche, you'll need to stay on top of trending content that your audience cares about.
Here are three free content curation tools you can use to find trending content:
Flipboard: Create a free account and select the topics you're interested in. Flipboard will display trending stories from the topics you've chosen.
Feedly: A free account gives you access to Feedly's database where you can explore trending content by topic or industry.
BuzzSumo: A content analysis tool that allows you to discover the hottest topics and content by search terms or URLs.
Once you've discovered the trending content you want to feature in your roundup post, it's time to create your list of content experts.
(b). Document Your Curated Content
Now that you've found your content, you'll want to create a database of the stories you feature.
This step is crucial as it will make the outreach phase (see next step) a lot easier.
The easiest way to keep track of your list of experts is by creating a spreadsheet on Google Sheets or Microsoft Excel.
An example spreadsheet from Sean Falconer of Proven.com gives you a glimpse of how you can organize your spreadsheet:
As you can see, Sean's spreadsheet contains essential details like the company name, URL, and contact information.
If you need help finding the email address of your curated experts, we've written a guide covering 14 of the best email finding techniques.
Once your spreadsheet is filled out, and your roundup post has been written, it's time to perform some outreach tasks.
Reaching out to the authors of the content you've shared will help foster stronger professional relationships in your niche and enhance content shareability.
More often than not, the authors you've featured in your roundup will be more than happy to promote your content through their social networks.
When performing your outreach, here's a simple email template you can follow from Hugh Culver of BlogWorks:
Subject: I loved your blog post

Body:

"Hey, [Name]!

I'm writing to let you know I really enjoyed reading your post, [Post Title]. I particularly enjoyed the part about [something you liked about their article].

In fact, I liked it so much that I added it to my [weekly] roundup on [roundup topic]. You can check it out here:

[Link to roundup post]

I'd love to get your opinion on it!

Cheers,

[Your Name]

You can also use your social media channels to reach out to the experts by tagging them in a social media post.
Now, we've covered how you can gather, curate and promote your link round up content, use this framework to optimize your link roundup:
And with that, on to our next type of SEO writing.
10. Complete Guides: How to Write an Ultimate Guide Blog
When it comes to creating detailed content:
Few are as definitive as guides.
A guide is THE ultimate form of SEO content.
Guides are well-detailed and highly informative. So detailed in fact that when it comes to word count, most guides are in the tens of thousands.
These types of content pieces often have titles like:
"The ultimate guide to…"
"The definitive guide to…"
"A beginner's guide to…"
Because of their length, many guides are broken up into different sections, using internal links to guide users across various web pages on a website.
While some websites display the full content of their guide on their site, others only give a glimpse of the complete guide by highlighting a particular chapter or section before requiring you to fill out a registration form (for lead generation) to gain access to an ebook or PDF of the guide.
This type of guide serves three purposes:
To keep your readers on your website longer, thereby encouraging conversion
To demonstrate your expertise
Provide the most comprehensive piece of content on a given topic
Content like this is highly valuable as it gives you many opportunities to rank for focused keywords.
An in-depth guide like the "Complete Guide to SEO" above can provide thousands of backlinks and generate significant traffic and revenue for your website.
Moz is another example of how an ultimate guide can lead to brand success.
In 2003, along with his mother, Rand Fishkin launched the start of what would eventually become Moz. At the time, SEO was in its infancy, and search engines were plagued with manipulative black hat SEO tactics like keyword stuffing, cloaking, and sneaky redirects.
As search engines like Google started to crack down on unsavory SEO practices, the Moz blog sought to help SEOs, marketers, and businesses develop a fundamental understanding of search engines.
Moz's "Beginner's Guide to SEO" was a scholarly approach to search engine optimization, covering everything from how search engines work to white hat SEO and link building strategies.
This comprehensive guide quickly gained popularity thanks to features from Newsweek and Slashdot. Getting recognition from such prominent sites, particularly Slashdot, propelled Moz's traffic to the stratosphere.
As Rand explains, in just two days of getting "slashdotted," Moz's site traffic jumped to "100,000 page views and 35,000 unique visitors," nearly crashing the Moz servers. Previous to this, Moz typically saw "1200 visitors and 8-9,000 page views per day."
This ultimate guide solidified Rand and Moz as a leader in the SEO landscape. It also enabled the company to pivot from a search engine consultancy firm to a software as a service (SaaS) technology company.
Nowadays, Moz has become a premier SEO software platform. The company is expected to do nearly $40 million in revenue in 2020.
But before you start writing your long-form guide to capture the same magic as Moz, a word of caution:
A definitive or ultimate guide is no easy undertaking.
Creating an ultimate guide requires hours and hours of research, strategizing, and planning — this is even before you've typed out a full sentence.
In a study done by Andy Crestodina of Orbit Media, a typical blog post (1000-1500 words) takes nearly four hours to write.
For an ultimate guide like the ones that Search Engine Journal or Moz has written, you could expect to spend 20 to 40 hours just writing the content, if not more.
This doesn't include the hours required to complete the other tasks that go into writing such a piece of work as research, formatting, editing, and sourcing visual elements like images or videos.
The content itself has to be comprehensive and must indicate your subject matter expertise.
To make your content stand out, you need to publish a type of content that your readers cannot find elsewhere.
Your guide must also be entertaining, so your readers not only learn something from it (and read it to the end) but happily share it with their network.
If you're committed to dedicating the time and process to craft an ultimate guide, remember that the SEO best practices still apply:
Conduct thorough keyword research
Include your keywords in the right places (headers, subheaders, etc.)
Avoid keyword stuffing
Optimize images and videos
Link internally
Build backlinks from relevant, authoritative websites
Here's how a summary of everything you need to do to optimize your go-to-guide for higher search engine rankings:
With the go-to-guide SEO content type in your armory, it's time to move on to our final SEO writing sample.
11. How To Optimize An Infographic For SEO
I've talked a lot about visuals and their role within your content, so the last type of SEO content we'll be discussing are infographics.
While predominantly seen as images, infographics are a powerful content tool.
Other benefits of incorporating infographics in your SEO content strategy include the following:
Visually persuasive and eye-catching
Simplify complex ideas and concepts
Land links from authoritative sites
Highlight your expertise within your industry
Easy to share
There's no doubt that infographics are an effective content format to supplement the rest of your content efforts.
What's even better:
Infographics can be created for numerous subjects, from summarising data and delivering how-to guides to displaying complex information.
They're also highly effective link bait.
Fortunately, optimizing infographics for on-page SEO isn't too different from many other types of content.
And what better way to highlight current best practices than by using a short infographic?
There you have it: The 11 types of SEO content that you can start including in your content marketing strategy today.
Now It's Your Turn
By implementing these SEO templates, you can improve the visibility of your business in SERPs and start your climb in search engine rankings.
Now, we'd like to know your thoughts:
Which SEO content format has your business used in the past?
Are you going to change how your content is presented on your homepage?
Comment below with your thoughts.
To help you further, we've included a handy step-by-step checklist for all 11 SEO content types, plus 3 bonus content frameworks not included in this post.
You can download the FREE bonus below: